Professional Copy Editor Nowick Gray


"I offer you prompt and personal service, with an eye to detail and a commitment to make your writing the best it can be."
Professional Proofreader and Copy Editor Nowick Gray

Qualifications Checklist:
BA English, Dartmouth College; MA English, U. of Victoria; Teaching Certificate, Simon Fraser University
Five years' experience as teacher of English as a second language, high school English, and creative writing
Many international clients (China, Japan, Korea, Brazil, Europe)
Member EFA, PEAVI
Pioneered online editing services, with unique pricing structure and standard levels of editing – widely copied around the web.
Superlative testimonials from satisfied clients. With a large part of my business coming from long-term repeat clients, I have no advertising overhead and can keep your costs low.
Publication in a variety of periodicals and anthologies since 1976. Eight published books, in a variety of genres (see website: NowickGray.com)
Nowick's experience as a teacher, editor and published writer spans over thirty years. He has taught creative writing for grades 1-12. His essays, fiction and poetry have appeared in periodicals and anthologies as diverse as The San Francisco Chronicle, elephant journal, Friends Journal, NeWest Review, and Skills for Simple Living. His book-length publications include a literate cyber-thriller (PsyBot), an adventure novella (Rendezvous), a collection of short stories (Strange Love / Romance Not For Sale) and nature writings (My Country: Essays and Stories on the Edge of Wilderness). The Hunter's Daughter, an historical mystery novel, is his latest release (forthcoming 2015-16).
As an editor Nowick has worked on a wide variety of projects including academic essays and theses, novels, nonfiction books and articles, business plans, newsletters, a poetry collection, and website design. He was an active member of a local writers' group for two decades, helping to produce a published anthology and to bring the work of several co-members to publication. A nonfiction book he co-edited with Margot Russell (When the Road Turns: Inspirational Stories About People with MS) was published in August 2001 by Health Communications (publishers of the "Chicken Soup" series) and reviewed favorably in The New York Times.
Since founding HyperLife Editing Services in 2000, Nowick has assisted academic, business, literary and professional clients writing about everything from private investigation, computer systems, real estate, banking, and law, to wildlife, aromatherapy, literature, mythology, psychology, and spiritual healing. He has helped students polish their essays, apply to graduate programs, and hone their creative writing. Clients consistently find value in his insightful comments and prompt service.
Carol Ross – professional freelance copy editor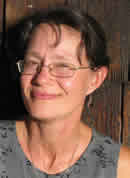 Associate editor Carol Ross has been part of HyperLife since 2003. Carol brings special skills in creative writing, as well as art and design. Her promptness, professional approach and eye for detail have impressed clients from a dozen countries and in disciplines ranging from fiction to international law, and from medical research to sociology. She is comfortable editing academic, business, scientific and creative writing. Roughly once a week she receives a comment on her editing along the lines of "Carol, you are amazing!" When not editing, she pursues her other passions: painting and gardening.